admissions
Application Process
Explore and "Dream Big"
1st time in college
You do not need prerequisites to apply to Platt College. Our students very in age, college experience, etc.
Simply start with our Four Easy Steps.
transferring to Platt
We help take some of the stress out of transferring to Platt College. While college credit is not required to apply, it can help reduce the overall cost of the program.
To learn more about our transfer credit policy, visit Policy 02:14:00.
Eligible Non US Citizen
Eligible noncitizens are individuals with the USCIS designation of refugee, asylum granted, Cuban-Haitian entrant, conditional entrant, victim of human trafficking, T-visa holder, battered immigrant-qualified alien, child of person under VAWA, or a citizen of Micronesia, the Marshall Islands or Republic of Palau.
English Proficiency: Platt College does not offer English as a Second Language (ESL) programs or classes, so we want to ensure that the applicant's level of English proficiency will allow them to succeed in an accelerated BSN program. If English is not the applicant's native language, a Test of English as a Foreign Language (TOEFL) with the minimum required score may need to be submitted prior to taking the TEAS test.
Who is exempt from the TOEFL requirement?
Applicants who have studied in the United States for 3 or more years of high school by the time you apply do not need to submit a TOEFL. This means the applicant either completed high school in the US or has completed grades 9, 10, 11 and is currently completing grade 12 in the US.
Applicants who have completed a post-secondary degree from an accredited US agency, college, or university.
Applicants whose first language is English and who have earned the equivalent of a high school diploma from a country where English is the official language. View the list of Approved Native English-Speaking Countries based on reporting from the CIA's World Factbook.
Platt College reserves the right to require a Test of English Language Proficiency in all circumstances.
Platt College's TOEFL code is 8791.
Acceptable English Proficiency Scores/TOEFL (minimum score):
80 internet-based (iBT)
550 paper-based (PBT)
Veteran Student
VA benefits may be available for those veterans who qualify. Make sure to submit your JST when you apply.
What program does Platt College offer?
Platt College offers a Bachelor of Science in Nursing (BSN) and it is a 3 year program, this is the only program offered.
How is admission decided?
After the applicant has completed all college and program admission requirements, the student's application file is reviewed, in accordance with the BSN Admission Screening Tool, by the Admissions Committee.
Do I need any prerequisites for the BSN program before attending Platt College?
No. Prerequisites, certifications, licensures or degrees are not needed to apply. An official high school transcript from an accredited high school and/or official GED is required to start the application process.
Still Have Questions?
The Application Process at Platt College is simple and can be completed in a few easy steps. We are here to guide you along every step of the way.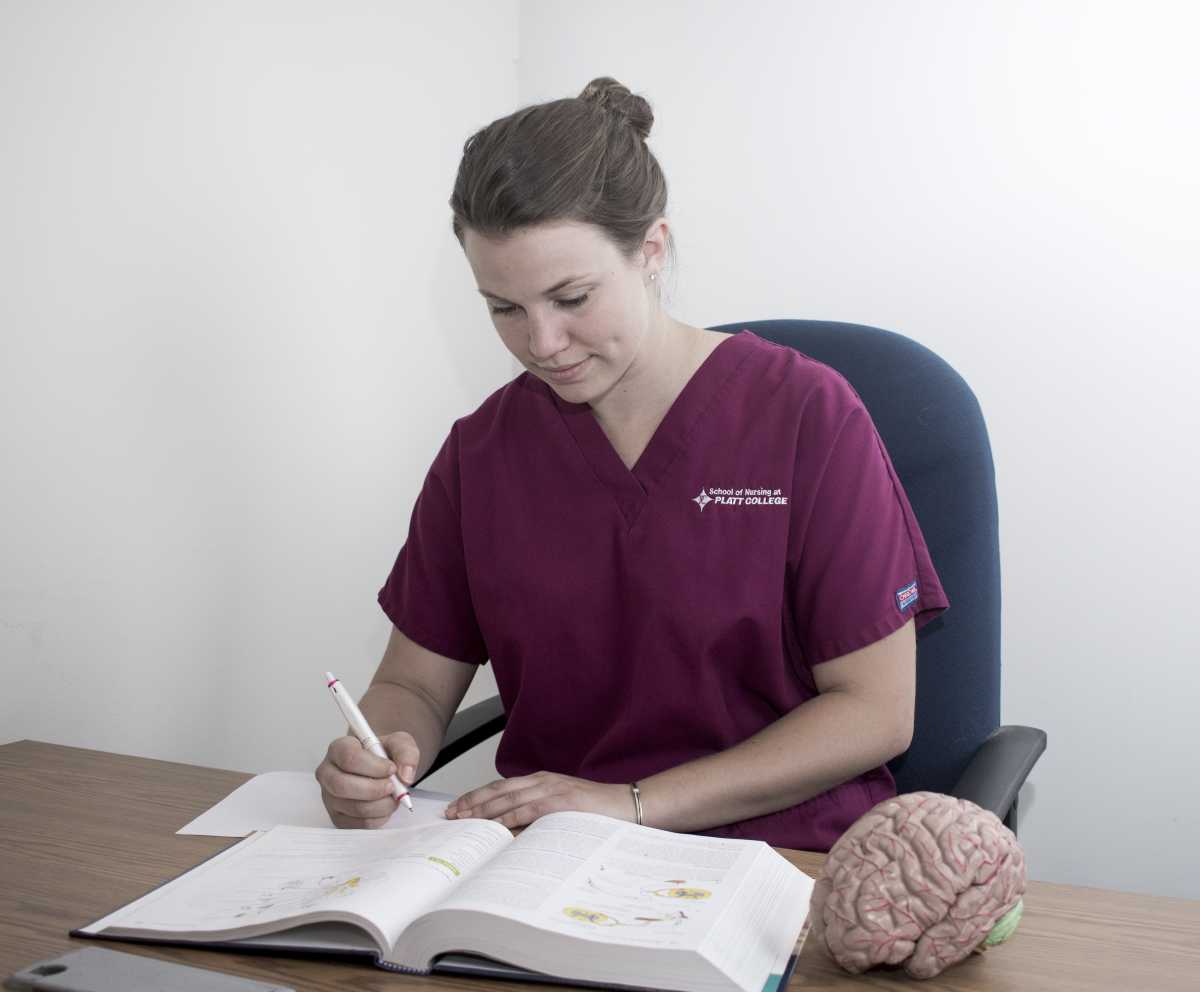 Start with Four Easy Steps
1: Online Application
Complete online application and pay a non-refundable $75.00 application charge online before taking a scheduled entrance test or submitting official SAT or ACT scores.
2: submit Test score
At Platt, we accepted scores from one of the three entrance test: ACT, SAT, or TEAS
ACT/SAT Guidelines:
Must be completed within 3 years of desired start date
Scores must be sent directly to Platt College

ACT Code is 7037
SAT Code is 3012
TEAS test Guidelines:
Must be completed within the last 18 months
Is scheduled directly with ATI
Can be taken up 3 times a year
There is a fee of $115 for each attempt made payable directly to ATI
To learn more about the TEAS test and how it is scored, click the link below for more information.
The TEAS examination may be waived for applicants with a conferred Bachelor's or Associate's degree in any subject, provided that the cumulative GPA for the degree is 2.75 or higher. Call the admissions department at 720-758-7971 to learn more.
*Effective March 3, 2023
3: Complete essay
Once the application is completed, applicants are given essay instructions via email. Applicants will be able to choose between three prompts. This step is required in the application process.
4: Submit HS Transcript (GED) & Any Healthcare Certifications (and official college transcripts-if applicable)
Official high school transcript from an accredited high school, official GED, and/or Home Study certificate or transcript.
*Potential applicants from foreign, non-English speaking countries must provide a translated and certified document that is the equivalent of a U.S. high school diploma in order to satisfy this step (Please Eligible Non-US Citizen Application Process).*
If you currently hold a healthcare certification, please submit official OR unofficial documentation to [email protected].