News
Platt College Student Administers Vaccine
Dec 10, 2020
Platt College nursing students recently partnered with Denver Health Medical Center (DH) where 11 junior and senior students were among the first in the state to administer the COVID-19 vaccine. Over a span of 6 days, students volunteered their time to vaccinate health care employees at Denver Health.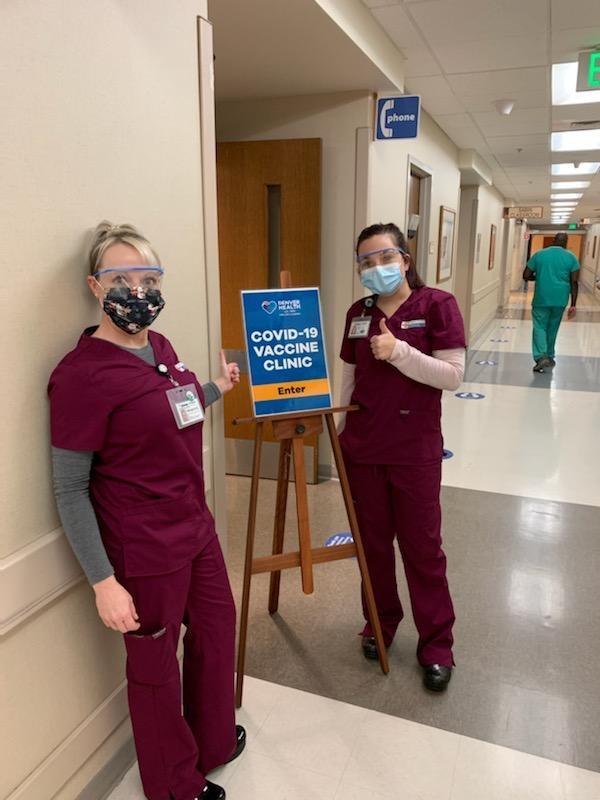 Meredith Ryno, a junior at Platt College, states how emotional and inspired she felt to give back to the community. "Overall, it was an emotional experience. As a student nurse, seeing what COVID has done to patients of mine, friends, and family, it was an honor to have this opportunity. Ryno acknowledges that she became emotional when that she administered the vaccine to a doctor at DH, who immediately showed great emotion when he sat down and rolled his sleeve up in preparation to receive the vaccine. The doctor commented to Ryno that he was a single dad and had to go weeks without seeing his children due to caring for Covid patients. Ryno felt an interprofessional collarborative relationship with the doctor as the two "just sat there and cried for a few moments over how exciting and monumental this was for him. That was the exact moment that it hit for me, personally, that this goes further than just a 'little pinch' for some people. After so much uncertainty, stress, and worry over the last (almost) year, it was a privilege to be a part of the solution to all of this for others….it was the experience of a lifetime and I am so grateful to have had the opportunity."
Another junior who attended the vaccination clinics had a very personal connection to the experience. Heather Askew states, "I had to think back to March when my dad first got sick with COVID. He was the very first COVID survivor early in the pandemic to leave St. Joseph's Hospital and return home. Askew acknowledges how personal giving the vaccine felt; "I have an opportunity to save people fear and uncertainty associated with COVID-19. I get to help them prevent someone's death or the endless doctor's appointment every week. I get to educate them on what they are getting and how that will help decrease their risks of contracting and speeding the virus. I get to make sure they don't have complications and comorbidities from the COVID-19 virus. Simply, I get to help. I get to put ease into people lives one way or another. The best part is, I'm still a nursing student. I sacrificed my time on break away from school to be a part of something bigger than you and me. I feel honored, appreciated, and blessed to be a part of putting the world back together as we know it. As a student you don't have opportunities to change the world but to change someone's world. By giving the COVID-19 vaccine out at Denver Health, I not only changed someone's world, I helped changed the world."
As vaccination clinics continue at Denver Health through January and February, 37 more senior level students from Platt College will be there to support health care workers and high-risk individuals as they continue to administer this life-saving vaccine. In the months to follow, Platt College will be there to continue to support our community in whatever way is needed. Associate Dean of Nursing, Jennifer Jones, acknowledges how "proud Platt College is to a part of the solution."
More News from Platt College
Am I Sick?
As the fall season begins, Platt College is committed to keeping our students, employees, and visitors safe. The chart from Tri-County Health Department outlines the differences in symptoms for sinus infections, COVID-19, the flu, and the common cold.
Read More